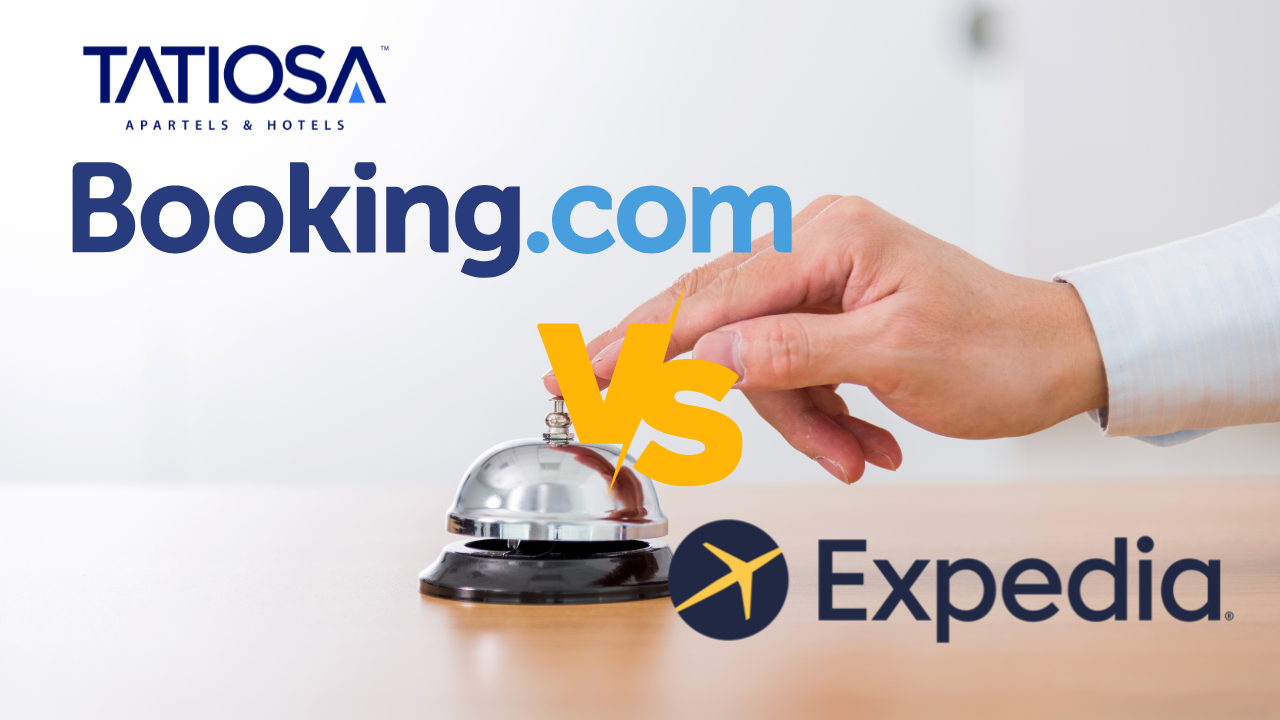 Expedia vs Booking: Which one is better
Posted by

Categories

OTA

Date

August 23, 2022
Expedia vs Booking: 
The two giants operate the hotel industry, but which one is better, how are they different, let's get in depth and find out which one is for your property.
First you need to understand the market share of these giants and which part of the world uses them, for example, most of the reservations that we receive from the European regions are generated on Booking.com but the majority of reservations that we receive from the United States are from Expedia & its affiliates. 
These giant tend to offer much more than a hotel or a vacation rental, for example booking.com is known for its vehicle rentals, whereas Expedia is known for airline tickets, and they offer much better prices when a reservations is made through a package
The question now is which one is better? Which company should you trust? What's the key difference between these two companies? Let's find out  in this article.
Expedia vs Booking: Overview
Expedia:
Expedia is a well known brand working and leading in the travel and tourism sector. Expedia gives you all the essentials you will require throughout your travel. They also provide services like booking lodges, rental cars, etc.
It is also known for it's meta-search engine, where a single search phrase of a hotel will provide you with detailed information about your destination & hotel options, even if you have no intention of making a reservation.
With Expedia, you can search for attractions of the city you are visiting, and once you decide your destination, and tourist attractions, you can move ahead to book all the necessities. 
Expedia is a well-respected travel and tourism website which helps you book everything easily. No hidden or additional fees are charged and all the brands and companies on Expedia's website are verified and trusted.
Booking:
Booking is a well-known travel agency. It helps you find the best lodges and book the best one along with shopping for other travel essentials. The website has over 28 million listings of different products and services on its website. Also, the website is user friendly and available in 43 languages.
Booking.com always sides with the customer, and as a renter, you are guaranteed that booking.com will resolve any issues that you encounter. For example, if for any reason your reservation is cancelled by the property for any reason booking will make sure that you have an equal or a better quality reservation ready for you, and it's strict with its partners (Property owners) and better yet, the reviews on booking are monitored, with its advanced algorithm almost 99% of its reviews are genuine and made by customers not by fake reservations made by hotels.
Traveling with booking is secure, you are less likely to encounter any scam or fraud regarding your reservation, and thanks to their strict policy any property that gets flagged by booking will be kicked out and forever be banned from listing on their website.
Booking's friendly interface allows you to have the whole picture of your reservation, all payments, inclusions and exclusions are clearly displayed on the website, so no bad surprises there, besides that, the customer support is guest friendly and will help you in any way possible.
Booking vs Expedia: What is the difference?
User Interface
Expedia: Expedia group of companies is famous for presenting a simple and up-to-date user interface for a better understanding of its customers. Both the performance and handling of the site are easy and both the beginner and the professional can operate it easily. In case you have never used an online travel and tourism website, using Expedia will help you carry out the tasks easily.
Booking: Booking.com has a simple user interface. As a beginner, you will have no major complications in understanding what is happening. As soon as you enter the website, you will see a table which will ask for important details of the trip you are planning, like — where are you heading? What is your check-in and check out and how many people are going? 
In the last section, you will have to specify how many adults are going and children. It will take in the number of rooms you will require with this data automatically. Tap on the search bottom in blue and you are set to go. In case you are travelling for work, there is an option that says the same thing. Tap on the tick box and it will show you options accordingly. 
Bookings
Expedia: Expedia is the best website for bundle bookings. By bundle bookings, we mean you will be able to book everything from the start of the journey to the end of it in one go. This certainly helps in less confusion and complication. You can go by the recommendations of expedia.com or go for the options of your choice.
Once you are sure of what you want to book and what is suiting well with your budget, the booking process may take a while but it is not a hard task. The website will ask for important details like your name and such. After you are all done with the formalities, the last step will involve you doing payments.
The brand offers single bookings, where you can book hotels, lodges, flight tickets or rent cars separately. This is the best choice if you already have a place to stay in the new city and also have a vehicle to ride. However, the brand gives a lot of discount offers for bundle bookings which you will be missing if you went for single bookings.
Booking: booking at Booking.com is similar to booing at Expedia and any other travel brand. But, what is the highlight? Booking.com will help you go through the process with ease while you stay away from making mistakes while filling in the important details.
Once you have decided on everything, you can go ahead with booking from the start. First, you must book the flight and make sure you have the check-in timing accurate with the hotel or you will have to waste your time by waiting in the hotel's lobby. Once you have successfully booked the hotel, go for hotels.
At times, you wish you can get a certain room with a certain view outside the hotel but you forget to mention it while booking — do not do that. After you have booked the two main things, it is time to rent a car. Booking.com has allowed only the best companies to do business on their website.
Almost all the brands you find on the website are verified dealers. They have a huge variety of cars and other vehicles to satisfy your needs. In the end, if you end up booking everything from Booking.com, you will be getting discounts and promotions automatically added to the final bill. On top of all, you will have a pleasant experience on your trip.
Expedia vs Booking.com: Which one is better?
Expedia: Expedia is known for carrying out the business more efficiently and professionally. The brand is one of the top-most companies in the travel and tourism sector with millions of people from across the world taking advantage of its services.
If you think the brand will take a step back after you have paid for everything and on the trip, that is wrong. It stays in touch with you throughout your trip and makes sure you are having a good time. In case you are encountering any issue, all you have to do is contact them and they will give you the easiest solution to your problem or rather — they will solve the issue for you.
To think that you will ever get scammed or charged extra by any rental services or hotelier if you booked in through Expedia, and the brand will not pay attention to you is 100% incorrect. This is something you will not experience when dealing with Booking.com.
Booking: the main highlight of this brand is that — unlike Expedia which brings most of the brands from the United States, it brings in results for America as well as other companies from different parts of the world. Expedia has a greater reach as it is a more expanded brand compared to Booking.com. But, when it comes to options from different countries, Booking.com is at the top as Expedia focuses more on America than other countries.
This simply means that if you want to visit a city or state from another country, Booking.com can give you a better performance. In case of visiting any state or city within the American borders, you can consider Expedia too.
Conclusion
Our comparison battle between Expedia vs Booking.com ended with a tie result. However, given the important factors between the two, you must be able to decide which company can perform better in your favor. In case you are still not sure which one to choose — choose Expedia if you are booking a business trip and go for Booking if it is a family trip.